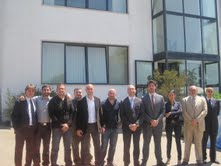 Recently and in line with the internationalization strategy of ORTRAT, it was ratified and broad representation agreement, collaboration and services ORTRAT in Italy with the Italian commercial KALEOS as the main focus of this impulse.
After more than a year of fruitful relations between the two entities making the agreement a national hue for the entire Italian territory, expanding the product range of marketing analysis system SCENE SOLAR photovoltaic plants to the full range of products manufactured by ORTRAT.
In line with the intention of bringing the products to the point of consumption and offer an efficient service nearby, within this agreement is reflected the training program will receive KALEOS staff ORTRAT technicians in order to be instructed in the different products and services offered by the firm.