Linear Fire detector for tunnels and galleries.
Building fire detection systems are not an option for tunnel installation, as their sensor technologies or maintenance costs due to harsh working conditions make them inappropriate. The area covered by conventional detection devices is not so big so the number of devices required will be unacceptable.
For tunnels a specific fire detection cable was developed. The ORLINE 2L linear fire detector has a thermo-sensitive isolation, once temperature reaches 65/70 ºC its copper cables short-circuit and activate an alarm. Installation is done with a support wire that can easily be fastened at the ceiling of tunnels so dirt, soot or moisture don't affect the system.
ORLINE 2L cable is connected to the CADE 8 device for control. This device provides auto checking and fast detection of the exact location of the fire in up to 14 sections of the cable length. As it provides an EIA 485 interface it can send data directly to a SCADA as well as trigger equipment directly connected to its relay outputs.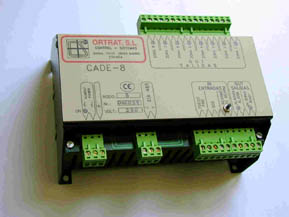 DRIVER TYPE FIRE CADE-8
Advantages
Ideal for tunnel installation.
Economic equipment.
Fast fire detection.
Easy installation and commissioning.
Easy maintenance.
Dirt resistant.
Request for information/offer
According to Law 15/1999 of December 13 Protection of Personal Data (Act), personal data supplied by you will be emailed ORTRAT staff to adequately provide the requested service. Your personal data will be collected through this form. In any case the data will be transferred to third parties. In compliance with the LOPD, the user may exercise their rights of access, rectification, cancellation and opposition by contacting ORTRAT.