Carbon monoxide and nitrogen dioxide detector KMQ 212 ND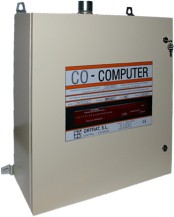 ORTRAT devices are approved by the Spanish Ministry of Science according to UNE 23.300:1984 for carbon monoxide detection.
The main source for carbon monoxide (CO) in urban environments are automobile engines, in big traffic areas they could produce the 60% of the total. Nitrogen dioxide is a threat for health, nitric oxide in atmosphere is not harmful but when it changes to NO2 it can cause respiratory problems.
ORTRAT
design ensures a CO/NO2 accurate and steady detection through the years, even in the worst environmental conditions (dust, soot, humidity, etc.).
ADVANTAGES
Aspiration sampling: In dirty environments conventional detectors lose accuracy because of filter obstruction.
Up to 20 measurement points, 10 relay outputs configurable for up to 4 alarm triggers for each zone
Depending on local regulation, sampling points should be located every 200..300m2, so that a detector with 20 intakes could supervise a 6000 m2 parking area with different ventilation zones, located at one or different floors.
Long lasting electrochemical sensors, highly accurate and steady, even for lower concentrations than 25 ppm (CO) or 5 ppm (NO2)
Easy integration within our remote control and monitoring interface PLUTO_NT, allowing the management of the whole facilities from a desktop industrial computer, using frequency drives for ventilator control, maximizing energy savings.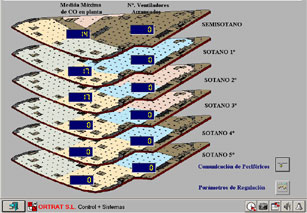 Request for information/offer
According to Law 15/1999 of December 13 Protection of Personal Data (Act), personal data supplied by you will be emailed ORTRAT staff to adequately provide the requested service. Your personal data will be collected through this form. In any case the data will be transferred to third parties. In compliance with the LOPD, the user may exercise their rights of access, rectification, cancellation and opposition by contacting ORTRAT.