INTRODUCING THE SYSTEM
AMBI RECORD is a system for supervision and registration of ambient conditions in public or big buildings. It registers temperature and humidity to assure ambient conditions are suitable for the attending public and meet regulatory demands.
To meet changing demands in malls and similar buildings, sensors use RF communications in order to avoid additional wiring costs. Centralization of screens can be done using existing data networks reducing installation costs even more.
COMPONENTS
1 screen
CPU
1 RF base station for measurement reception
1 or up to 10 RF humidity and temperature sensor
Monitoring sensors have to be installed to cover the whole area, at least one per each 1.000 m2. Configuration of the system allows adaption to customer's needs.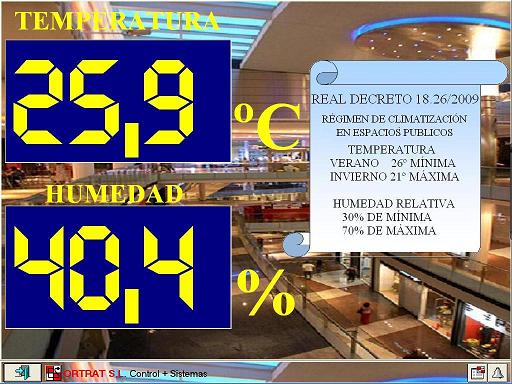 These components take advantage from radio communications and structured wiring, the first one ensures a fast installation without wiring, so location could be changed in determinates situations. The wiring characteristics offer a broad net connection using the local infrastructure existing in every building. Remote control allows the access from central desk or any other computer connected.
OUR VALUE:

ADVERTISEMENT AND INFORMATION INTEGRATION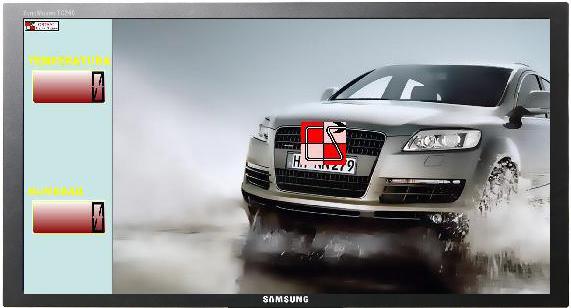 Advertisement and information display in malls, public buildings.
Intranet interconnection through a central monitoring system, every panel connected will be managed from the central desk..
Other systems can be integrated under request.
ADVANTAGES
Easy installation.
More than two years battery duration.
Use of existing cabling.
Reliable software platform.
Scalability.
Fan-less industrial CPU.
Data export.
Configurable, adaptable and customizable.
Advertisement display available.
Central monitoring.
Request for information/offer
According to Law 15/1999 of December 13 Protection of Personal Data (Act), personal data supplied by you will be emailed ORTRAT staff to adequately provide the requested service. Your personal data will be collected through this form. In any case the data will be transferred to third parties. In compliance with the LOPD, the user may exercise their rights of access, rectification, cancellation and opposition by contacting ORTRAT.