CONCEPT
ORTRAT's integral concept for tunnel management, working in some of the largest tunnels of Spain, combines all systems required to ensure maximum security to the users into one single control system with its graphic user interface for comprehensive control by the operators. It allows complete management of different systems as:
Advantages
Signal, alphanumeric and graphic variable panels
Traffic lights and signals
Gauge detection
Traffic control
CCTV plus incident detection through image analysis
PA systems
Fire detection and extinguisher
Gas detectors and visibility meters
Ventilation systems
Illumination systems
Power distribution and control
SOS posts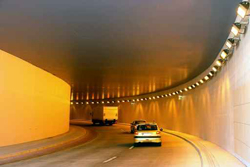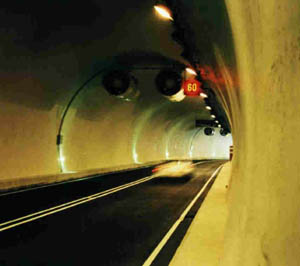 A powerful software package, the result of many years of expertise and more than 130 installations equipped around the World, plus a strong and pure digital communication system are the basis of our control and management system.
The first project equipped by ORTRAT was in the 70's, from then until now our scope, together with our knowledge and technological solutions, has increased offering complete solutions for tunnel control rooms.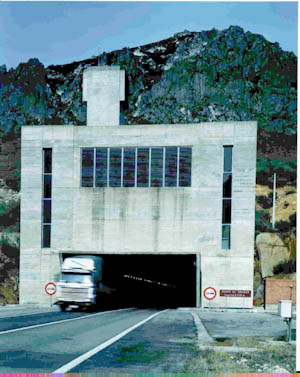 OUR VALUE
Broad experience with more than 130 tunnel installations around the World.
Design, development, production, installation, quality control, commissioning and maintenance under ISO 9001
SCOPE
What we offer:
Pollutants, visibility and wind monitoring
CO detection, opacity, meteo station and air circulation control.
Telecontrol
With the state-of-the-art ORNO devices, all equipped with ORNET communications and protected against overvoltage discharges we canprovide a perfect communication solution for decentralized control.
Fire detection and control
Our fire detection cable ORLINE can locate the source of a fire and through our CADE-8 controller send the right alarms, allowing thus correct ventilation and evacuation actions to be taken.
Illumination
With a proper light regulation, depending on external light and opacity we assure security, efficiency and comfort conditions to the tunnel users.
SOS posts
Our SPK 8+8 peripherals provide a reliable communication system over copper or fiber optic cables for emergency calls.
CCTV
The best way to know the live circulation conditions inside a tunnel giving the best answer to all kind of situations, directly in our graphic desktop user interface.
Signal and Traffic lights
Good communication between users and the management board through message panels, signals, traffic lights are necessary to get the best circulation flow inside the tunnel.
Gauge Control
Before the entrance, different measures should be done to avoid accidents with big trucks.
Sound Systems
The management of the PA system directly from the GUI provides a semi-automatic communication channel with the users
Incidence detection by image analysis
Digital image analyzer identify fire, hazardous transports, traffic jams, ghost drivers and other incidents automatically, providing the operators with valuable information allowing fast reaction.
Computer Control
Our SDS-2000 industrial computers provide graphic interfaces for a comprehensive tunnel control
Request for information/offer
According to Law 15/1999 of December 13 Protection of Personal Data (Act), personal data supplied by you will be emailed ORTRAT staff to adequately provide the requested service. Your personal data will be collected through this form. In any case the data will be transferred to third parties. In compliance with the LOPD, the user may exercise their rights of access, rectification, cancellation and opposition by contacting ORTRAT.
TUNNEL REFERENCES
| Road Tunnel | Country/Region | Year |
| --- | --- | --- |
| 01. Tunnel ZALDIVAR | Bilbao-San Sebastián | 1972 |
| 02. Tunnel MANZANAL | Ponferrada | 1972 |
| 03. Tunnel los BRUCS | Igualada | 1974 |
| 04. Túnel de CHAMARTIN | Madrid | 1981 |
| 05. Tunnel OBLANCA I | Asturias-León | 1984 |
| 06. Tunnel NEGRON I | Asturias-León | 1984 |
| 07. Tunnel BARRIOS | Asturias-León | 1984 |
| 08. Tunnel PANDO I | Asturias-León | 1984 |
| 09. Tunnel CAD | Gerona | 1985 |
| 10.Tunnel la ROVIRA | Barcelona | 1986 |
| 11. Tunnel LORCA I | Murcia | 1988 |
| 12. Tunnel VILLAFRANQUEZA | Alicante | 1990 |
| 13. Tunnel RONDA TORRELAVEGA | Cantabria | 1990 |
| 14. Tunnel VILLA OLIMPICA I | Barcelona | 1990 |
| 15. Tunnel VILLA OLIMPICA II | Barcelona | 1990 |
| 16. Tunnel los BRUCS II | Igualada | 1990 |
| 17. Tunnel OBLANCA II | Autop.Astur.-Leon | 1990 |
| 18. Tunnel VIA JULIA-ANELL | Barcelona | 1991 |
| 19. Tunnel VIA FAVENCIA | Barcelona | 1991 |
| 20. Tunnel VIA JULIA-MERIDIANA | Barcelona | 1991 |
| 21. Tunnel NUS TRINITAT | Barcelona | 1991 |
| 22. Tunnel UGALDEBIETA | Bilbao | 1991 |
| 23. Tunnel PLAZA DE ESPAÑA | Vigo | 1991 |
| 24. Tunnel PLAZA AMERICA | Vigo | 1991 |
| 25. Tunnel SINESIO DELGADO | Madrid | 1991 |
| 26. Tunnel CASIMIRO SAINZ | Santander | 1991 |
| 27. Tunnel PANDO II | Astur.-Leon. | 1991 |
| 28. Tunnel COLON | Barcelona | 1991 |
| 29. Tunnel PLA DE PALAU | Barcelona | 1991 |
| 30. Tunnel MONGAT-TRINITAT I | Barcelona | 1991 |
| 31. Tunnel CERRADO CALDERON | Málaga | 1992 |
| 32. Tunnel MALMASIN | Bilbao | 1992 |
| 33. Tunnel la PALLARESA | Barcelona | 1992 |
| 34. Tunnel SINESIO DELGADO II | Madrid | 1992 |
| 35. Tunnel la OLLERIA I | Valencia | 1992 |
| 36. Tunnel PATA SUR | Barcelona | 1992 |
| 37. Tunnel ORENETA | Barcelona | 1992 |
| 38. Tunnel THAU | Barcelona | 1992 |
| 39. Tunnel BORRAS I | Barcelona | 1992 |
| 40. Tunnel BORRAS II | Barcelona | 1992 |
| 41. Tunnel BORRAS III | Barcelona | 1992 |
| 42. Tunnel SOMOSIERRA | Segovia | 1992 |
| 43. Tunnel BARRIOS II | Autop.Astur.-Leon | 1992 |
| 44. Tunnel LORCA II | Murcia | 1993 |
| 45. Tunnel ISAAC PERAL | Vigo | 1993 |
| 46. Tunnel C/BURGOS | Santander | 1993 |
| 47. Tunnel COLLEGATS I | Lérida | 1993 |
| 48. Tunnel COLLEGATS II | Lérida | 1993 |
| 49. Tunnel LA PAGUERA | Palma de Mallorca | 1993 |
| 50. Tunnel S.GENARO DE LA FUENTE | Vigo | 1994 |
| 51. Tunnel ASTILLEROS HERAS | Santander | 1994 |
| 52. Tunnel MARESME | Barcelona | 1994 |
| 53. Túnel CUESTA S.VICENTE | Madrid | 1994 |
| 54. Tunnel MANZANAL | León | 1994 |
| 55. Tunnel RONDA SUR GRANADA | Granada | 1994 |
| 56. Tunnel CASTRO URDIALES COLINDRES | Santander | 1994 |
| 57. Tunnel PLAZA REPUBLICA DOMINICANA | Madrid | 1995 |
| 58. Tunnel ARCO DEL TRIUNFO | Madrid | 1995 |
| 59. Tunnel GREGORIO ESPINO | Vigo | 1995 |
| 60. Tunnel MONTEMOR | Portugal | 1995 |
| 61. Tunnel PESET ALEIXANDRE/PRIMADO REIG | Valencia | 1995 |
| 62. Túnel RUA MONTEIRO | Vigo | 1995 |
| 63. Tunnel del BADAL | Barcelona | 1995 |
| 64. Tunnel O'DONNELL | Madrid | 1996 |
| 65. Tunnel del SOLLER | Palma de Mallorca | 1997 |
| 66. Tunnel MENDEZ ALVARO – Bus Station | Madrid | 1997 |
| 67. Bus Station NEGRON II | León. | 1997 |
| 68. Tunnel M-111 PARACUELLOS | BARAJAS (Madrid) | 1997 |
| 69. Tunnel de RIOS ROSAS | Madrid | 1998 |
| 70. Tunnel CEA BERMÚDEZ/CRISTO REY | Madrid | 1998 |
| 71. Tunnel CAMPOLONGO | Galicia | 1998 |
| 72. Tunnel PEDRA DO COUTO | Galicia | 1998 |
| 73. Tunnel de LA RUBIA | Valladolid | 1998 |
| 74. Tunnel PLAZA MAYOR/C. TOLEDO | Madrid | 1999 |
| 75. Tunnel BARRIO COVADONGA | Torrelavega | 1999 |
| 76. Tunnel RONDA GRAL. MITRE | Barcelona | 1999 |
| 77. Tunnel O'DONNELL/DR. ESQUERDO | Madrid | 1999 |
| 78. Tunnel de CANDEAN | Vigo | 1999 |
| 79. Tunnel de A MADROA | Vigo | 1999 |
| 80. Tunnel de VIELLA | Lérida | 1999 |
| 81. Tunnel INTERCAMBIADOR ­ AV AMERICA | Madrid | 1999 |
| 82. Tunnel LAGOS | Málaga | 2000 |
| 83. Tunnel la SAGRERA | Barcelona | 2000 |
| 84. Tunnel GTA. AVDA DE ARTEIXO | La Coruña | 2000 |
| 85. Tunnel MONTAN DEL TOST | Lérida | 2001 |
| 86. Tunnel DIAGONAL MAR – PUIGCERDA | Barcelona | 2001 |
| 87. Tunnel AGUAS VIVAS – GUADALAJARA | Madrid | 2001 |
| 88. Tunnel Artxanda | Bilbao | 2001 |
| 89. Tunnel La Marga | Santander | 2002 |
| 90. Tunnel Chumberas | Tenerife | 2002 |
| 91. Tunnel Ronda Este Oscar Prado | Málaga | 2002 |
| 92. Tunnel 3 de Mayo | Tenerife | 2002 |
| 93. Tunnel Sta María de la Cabeza | Madrid | 2002 |
| 94. Tunnel TSA (fase 1) Barajas | Madrid | 2003 |
| 95. Tunnel TSA (fase 2) Barajas | Madrid | 2003 |
| 96. Tunnel Isla de Hierro – Valverde | Canarias | 2003 |
| 97. Tunnel María de Molina | Madrid | 2003 |
| 98. Tunnel La Rosaleda | Ponferrada | 2003 |
| 99. Tunnel Plataforma Dique Este | Madrid | 2003 |
| 100. Tunnel Sartego | La Coruña | 2003 |
| 101. Tunnel acceso Recinto Ferial | Valencia | 2003 |
| 102. NET Access Barajas Airport | Madrid | 2004 |
| 103. SAT Access Barajas Airport | Madrid | 2004 |
| 104. Barajas Airport AENA Platform | Madrid | 2004 |
| 105. Túnel de Isaac Peral II | Vigo | 2004 |
| 106. Túnel Cuatro Caminos | Madrid | 2004 |
| 107. Tunnel Guinardera – Vullpelleres | Sant Cugat (Barcelona) | 2004 |
| 108. Tunnel Soller | Palma de Mallorca | 2004 |
| 109. Tunnel Ronda Norte – Vullpelleres | Sant Cugat (Barcelona) | 2005 |
| 110. Tunnel de O'Donnell – prolongación | Madrid | 2005 |
| 111. Tunnel Plaza José Mª Soler / Costa Rica | Madrid | 2005 |
| 112. Tunnel Ponferrada – CN VI | León | 2006 |
| 113. Plaza Elíptica Station | Madrid | 2006 |
| 114. Tunnel Eiris – La Coruña | La Coruña | 2006 |
| 115. Tunnel Airport access Ibiza | Ibiza (Baleares) | 2006 |
| 116. Tunnel Sierra del Aguilón | Murcia | 2006 |
| 117. Tunnel Loma de Bas | Murcia | 2006 |
| 118. Tunnel Sierra de Las Moreras | Murcia | 2006 |
| 119. Tunnel Sierra de Lo Alto | Murcia | 2006 |
| 120. Tunnel San Rafael – San Antonio Abad | Ibiza (Baleares) | 2006 |
| 121. Príncipe Pío Station | Madrid | 2007 |
| 122. Tunnel San Rafael | Ibiza (Baleares) | 2007 |
| 123. Collado Villalba | Madrid | 2007 |
| 124. Plaza Castilla Station | Madrid | 2007 |
| 125. Tunnels San Lorenzo y Belabieta | San Sebastián | 2007 |
| 126. Moncloa Station | Madrid | 2008 |
| 127. Boadilla del Monte | Madrid | 2008 |
| 128. Tunnel San Eduardo – Ecuador | Ecuador | 2008 |
| 129. Tunnel Eiris – La Coruña – Fase II | La Coruña | 2008 |
| 130. Tunnel Highway V21 | Valencia | 2009 |
| 131. Tunnel Sta. María de la Cabeza | Madrid | 2009 |
| 132. Tunnel Padre Vallet | Madrid | 2010 |
RAILWAY TUNNELS REFERENCES
| RAILWAY TUNNEL | Country/Region | Year |
| --- | --- | --- |
| 01. RECOLETOS Station | Madrid | 1988 |
| 02. NUEVOS MINISTERIOS Station | Madrid | 1988 |
| 03. PARLA Station | Madrid | 1993 |
| 04. PASILLO VERDE Station | Madrid | 1994 |
| 05. GETAFE Station | Madrid | 2001 |
| 06. ALCOBENDAS Station | Madrid | 2001 |
| 07. Railway tunnel N.Ministerios-Chamartín I | Madrid | 2006 |
| 08. Railwaytunnel Nuevos Ministerios-Atocha II | Madrid | 2006 |
| 09. High Speed Railway tunnel Sant Boi – Hospitalet | Barcelona | 2007 |
| 10. . High Speed railway tunnel Abdalajís | Málaga | 2007 |
| 11. High Speed railway tunnel Abdalajís | Málaga | 2007 |
| 12. High Speed railway tunnel Villafranca. | Barcelona | 2009 |
| 13. High Speed railway tunnel Torrasa | Barcelona | 2009 |
| 14. High Speed railway tunnel El Prat | Barcelona | 2009 |
| 15. Railway tunnel Basurto – Rekalde | Bilbao | 2009 |