SOLAR STAGE - LAST GENERATION SCADA ORTRAT
System integration for Solar PV plants is our main activitiy in the renewable energy field.
Our 30 years long experience in power generation and power distribution control has led us to the development of our ESCENA Solar SCADA system.

Today ORTRAT offers:
Data acquisition, control, remote control and supervision equipment.
Comprehensive SCADA for Solar PV plant monitoring.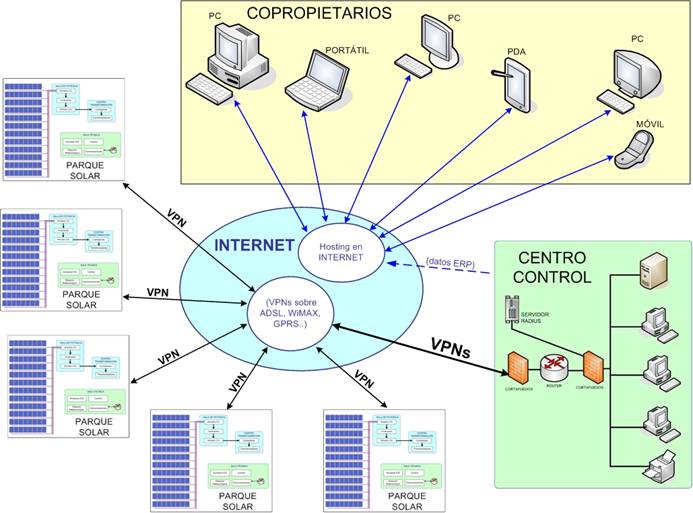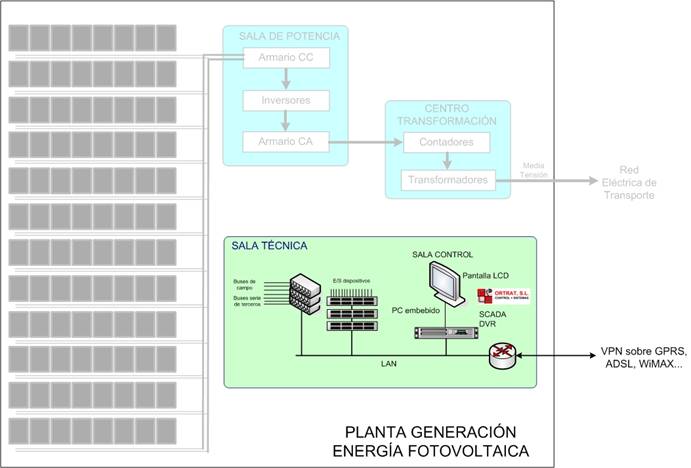 Request for information/offer
According to Law 15/1999 of December 13 Protection of Personal Data (Act), personal data supplied by you will be emailed ORTRAT staff to adequately provide the requested service. Your personal data will be collected through this form. In any case the data will be transferred to third parties. In compliance with the LOPD, the user may exercise their rights of access, rectification, cancellation and opposition by contacting ORTRAT.
| YEAR | NAME | COUNTRY | MW | CHARACTERISTICS |
| --- | --- | --- | --- | --- |
| 2008 | Huerta Solar en (Beas) HUELVA | España | 0,6 | 6 inversores y 6 contadores |
| | Huerta Solar en (LLerena) ALMERÍA | España | 0,5 | 11 inversores y 11 contadores |
| | Huerta Solar en (Gotarrendura) AVILA | España | 0,2 | 6 inversores y 2 contadores |
| 2009 | Huerta Solar en (Pinoso) ALICANTE | España | 0,9 | 9 Inversores y 9 contadores |
| | Huerta Solar en (Benidoleig) ALICANTE | España | 0,4 | 4 inversores y 4 contadores |
| | Huerta Solar en (Alconera II) BADAJOZ | España | 8 | 16 inversores y 1 contador principal |
| 2010 | Planta de cubierta en E.T.S. Ingenieros industriales MÁLAGA | España | 1,7 | 17 inversores y 1 contador |
| | Huerta Solar en (Pozohondo) ALBACETE | España | 3 | 90 inversores y 30 contadores |
| | Huerta Solar en (Alanje) BADAJOZ | España | 8 | 90 inversores y 14 contadores |
| | Huerta Solar en (Los Hinojosos) CUENCA | España | 1,8 | 18 inversores y 18 contadores |
| | Huerta Solar en (Alconera I) BADAJOZ | España | 7,2 | 218 inversores y 12 contadores |
| | Huerta Solar en (Salice Salentino) LECCE | Italia | 9 | 17 inversores y 19 contadores |
| 2011 | Huerta Solar en (Massería Manzi) LECCE | Italia | 1 | 1 inversores y 3 contadores |
| | Huerta Solar en (Pozosol) ALBACETE | España | 3 | 90 inversores y 30 contadores |
| | Huerta Solar en (Valdecaballeros) BADAJOZ | España | 3 | 90 inversores y 30 contadores |
| | Huerta Solar en (Isis) FOGGIA | Italia | 3 | 6 inversores y 8 contadores |
| | Huerta Solar en (Bonassisi) FOGGIA | Italia | 6 | 12 inversores y 2 contadores |
| | Planta de cubierta en (Fábrica Renault) DOUAI | Francia | 10 | 20 inversores, 2 contadores y comunicación vía radio |
| | Planta de cubierta en (Fábrica Renault) MAUBEUGE | Francia | 10 | 20 inversores, 2 contadores y comunicación vía radio |
| 2012 | Huerta Solar en LAOS | Tailandia | 7 | |
| 2012 | Huerta Solar en BANGKOK | Tailandia | 7 | |